THE PAN NOTE EDITORS proudly present:
-----------------------------------------------------------------------------------------------------


|
|
|

Lumelang!
Welcome to issue #113 of The Pan Note! This is our first issue without Virgie and boy oh boy, what a lean issue it is. Hopefully the forum activity will see a spring time boost soon. The spring time is filled with Panbirthdays, which are wonderful occasions to post a congratulatory thread or some fan creations. In the upcoming few weeks, we'll be celebrating the birthdays of
Rufus
(the 25th),
Sober
(the 32th ...yeah, interpret that however you wish),
Delia
(April 2nd) and
Titus
(April 8th)! Early congrats to all from The Pan Note!
To celebrate one (or more) of your favorite characters' birthdays, how about you do some baking? In this issue's
Chareply
, the lovely
Rose
has a delicious recipe waiting for you. In addition to that, we've got the 411 on the Pangoers' lives and loves on
Noted
and of course newest chapter cover in
Headlines
!
As always, we hope you'll enjoy this issue. The Pan Note will be back next month with issue #114!
Send a pm to
The Editors usergroup
if you wish to send any reader mail!
The next issue will come out
April 17th, 2014
.

NEW CHAPTER UP!!
Chapter 19 cover is up! How do you enjoy a sexy Edgar all wrapped up in those sheets? What are you looking forward to seeing in the new chapter? Dina's been dropping hints that the end may be nigh, so surely we can expect a lot from the new chapter! Post your wishes and predictions in the
Recent Pages
board!
No new noted threads this month! But in other news... Mume moved to the West Coast, Sagie got engaged (congrats!), Sihaya is back from hiatus and the European Pangoers discussed the upcoming Eurovision Song Contest.
Welcome to

The Characters Reply!

In this issue,

Rose

continues from the frosting issue from last year by teaching us how to make some simply scrumptious cupcakes! Just look at the photo of them - you know you'll want to make them for your next house party.

If you have questions or comments for our Charepliers, please post them in the
Chareply
thread.
Without further ado, here's
Rose
!

Dear Panboarders,
Remember when we had that issue about frosting and icing? I thought it was about time for another batch of cupcakes… Serve these instead of potato chips or other snacks when you get visitors, it'll be a hit for sure!
Date and Walnut Cupcakes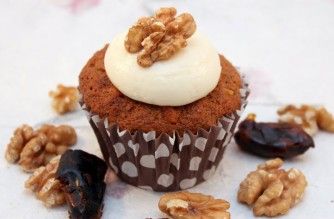 What you need (for 12 cupcakes)
120g self-raising flour
120g plain flour
10g cornflour
1 tsp bicarbonate of soda
125g butter
1 medium egg
1 tsp mixed spice
100g light brown sugar
100ml of golden syrup
100g of walnuts ( 75g to be chopped and 25g left aside to decorate)
200g stoned dates
250ml water
150g full-fat soft cream cheese
150g icing sugar
Few drops of vanilla extract
What to do
Chop up the walnuts and dates into small squares.
Heat the water, chopped dates, golden syrup and butter until boiling point and set them aside to cool.
Sieve the flours, spice, sugar and bicarbonate into a bowl and add the chopped walnuts.
Whisk the egg lightly and fold it into the flour mixture. Once the date mixture has cooled, spoon that in as well.
Preheat the oven to 180°C. Line up a cupcake tin with cake papers. If you don't have a tin, just use two or three papers per cupcake. Spoon in the cupcake dough and bake them for half an hour.
In the mean time, whisk together the cream cheese and icing sugar until it gets smooth and shiny. Add the vanilla extract somewhere in the middle of whisking.
Once the cupcakes have cooled down, decorate them with the icing and the rest of the walnuts and maybe some leftover dates. Enjoy!
Quick and easy! I do hope you'll try them.
Bon appétit!
Rose
***
<3 Many many thanks to our Chareply writers Sihaya and

Metanaito

! <3

***



Tsamayang hantle!
----------------------------------------------------------------------------------------------


Official Panfact #36: Timmy has tried most spirit drinks at least once.


----------------------------------------------------------------------------------------------