THE PAN NOTE EDITORS proudly present:
-----------------------------------------------------------------------------------------------------


|
|

|
|

Dobar dan!
Welcome to issue #115 of The Pan Note! We're just a day away from the publishing date of Pandect volume 1 and the mood here in the Editors' Office couldn't be more excited! Check out
Headlines
for more information on tomorrow's release and follow the links provided to buy your own copy (old school, e-book or both). We've also got the new pages from both sites in that section, just in case you haven't checked them out yet.
So many Panbirthdays in the upcoming weeks! Early congratulations from the The Pan Note go to
Mr. Elude
(May 24th),
Vanessa
(May 29th),
Ayubu
(June 7th) and
Teddy
(June 17th)! Big birthday hugs to all! Dear readers, don't forget to post fan creations to celebrate the big day of your favorite character(s)! And on the topic of fan creations, we've got a link to a great original piece this month in
Fresh Links
. We highly recommend you check it out!
Near the end of the Note, we've got the newest
Official Panfact
, which kind of continues from last month. We've also got TWO replies for you in
Chareply
this month, one of them the second part in an upcoming series of helpful articles! There's also some
Noted
facts about the Pangoers' lives and Dina's con attendace schedule for the summer season.
As always, we hope you'll enjoy this issue. The Pan Note will return next month with issue #116!
Send a pm to
The Editors usergroup
if you wish to send any reader mail!
The next issue will come out
June 19th, 2014
.

NEW PAGES UP!
ComicGen - Chapter 19 Page 8: Are You Going to Expose Me?
PandectComic.com - Chapter 2 Page 24: Rediculous Snore
Edgar appears to be in a no-negotiation position right now! Will he find out who took the journals? Fleance fell asleep before the game even started! What do you think Caesar will think of his purring? Discuss the newest happenings in the world of Pandect on the
Recent Pages
board!
Printed Pandect out TOMORROW!
Pandect volume 1 will be out tomorrow, May 16th! You're all excited for this, right? You can find information on how to purchase the book at
pandectcomic.com
. The post about the book will be updated with links soon, most likely tomorrow or later this week. You can also head straight to Amazon to get the
book version
or the
Kindle version
and order from there! You can also view preview pages of the comic and some of the bonus character images!
The first printed volume of Pandect will also be sold at the conventions Dina is attending this summer - if you're attending one or more of the cons she's going to, you can buy the book straight from her and maybe even get it signed while you're at it!
GENERAL CREATIVE of the month
Angel of God (slight NSFW)
by
sagechan
!
Check out Sagie's new side project! There's a promise of more smuttiness to come in the future!

Dina will be attending Otakuthon 2014 in Montreal, Quebec, August 22 to 24! If you're going, don't forget to say hello to her!
In other news... Sagie is thinking about moving from Michigan, Mume got a new phone so she can browse the forum on it now and being over-qualified really sucks.
Welcome to

The Characters Reply!

By popular request, apparently, our friend Sobre decided turn his chareply from last month into a series! This month, he's tackling the exam season and showing your the ropes of academic success. We've also got a new recipe for you from the lovely Rose, who shares an oldie but goodie recipe that's perfect for the upcoming summer season or perhaps for your graduation party as the non-alcohol drink choice!

If you have any questions or comments for our wonderful Charepliers, please post them in the
Chareply
thread.
Without further ado, here's
Sober
and
Rose
!

Hello everyone,
I see that a lot of people were enlightened by my previous notes and feel the need to read more of them. No wonder, it's just natural to seek for more wisdom from the Great Sobre. Bwahahaha.
We will be facing exams soon and I heard a lot of people have difficulty with those. They begged me to share my wisdom. Okay, I will tell you my secret methods for master ing exams!! If you pass because of my tips, you don't have to thank me, just send me some offerings, snacks,
booze
your lunch tickets, you know, anything tasty. Anyway, here are my 5 secret methods for mastering exams!
1. Seduce the teacher
Sleep with them and threaten them to give you a good score or you will spread their naked picture. Bwahahaha.
I mean, be friendly with your teacher. It's always good to have a lot of friends, who knows they will remember you and
be kind with the scoring
you can ask them if you don't understand something.
2. Steal your friend's answer sheet
And put your name on it, but don't forget, put their name on your answer sheet, to be fair. Remember, pick the most brilliant person on your class.
I mean, study together with the most brilliant person in your class.
3. Sneak into the teachers' room
No, you don't need to know the questions beforehand. What for? You don't know the answer anyway. What you need to do is change your score! Bwahahaha.
I mean, if you preferto study quietly, you can shut yourself in YOUR room and study hard.
4. Smuggle your phone into the classroom
Since ancient times, students have brought secret notes to the classroom during every exam. We only keep the tradition alive and do it in a modern way. It's so convenient, you can search the internet for the answer, text your friend, use the mirror function to see your friend's answer, anything. Be creative, this method is not easy. If you want some tips on how to do it, call me.
I mean, make some notes on your phone, you always bring it with you, so you can study anytime and anywhere, for example while waiting for the bus.
5. Switch your class's question paper
Self-explanatory, I guess. But this method requires hard work, because you must burn the original question paper and prepare a new one. The new question paper could be a one line question like "draw a sleeping koala", but you still have to do some work. And there's a chance that the teacher tells the whole class to retake the exam. But we can ask for our classmates' support and boycott the supplementary exam. Probably, this is the most challenging and the most interesting method. I still prefer the first method, though. Bwahahaha.
I mean, try to do some mock tests by answering questions from previous exams, or last year's exam probably? They have some question books for mock exams in the library.
After finding out my secret methods, there's no way you don't pass the exams. Super Smart Sobre's method never fails. Bwahahaha. Prepare your offerings from now, because you will be haunted by
me
guilty feelings if you don't send me some tasty food.
***

Dear Panboarders,
This one is an oldie but a goodie – I've been making this since I was a kid! This recipe is easy and cheap and keeps for a few days in the fridge. Serve it to your friends on the patio or as an alternative for alcoholic drinks at a party; it'll be a big success every time.
Raspberry Lemonade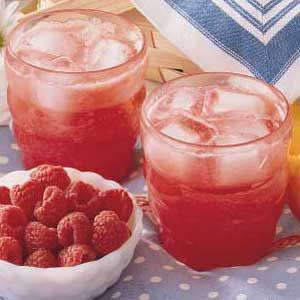 What you need
1 cup sugar
1 cup water
¾ cup raspberries (fresh or defrosted, both work)
1 cup lemon juice (takes about 8 lemons)
4-6 cups water, according to taste (personally I add 2 cups sparkling and 4 cups still water)
What to do
Make a syrup with the 1 cup water and sugar. Put the water on a low heat and stir in the sugar. Let it simmer and stir occasionally until the sugar has dissolved completely.
Puree and sieve the raspberries.
Pour the cooled syrup and the lemon juice over the raspberries and stir gently. Add the rest of the water and stir. Set in the fridge to cool or add some ice cubes. Done!
If you want to get really fancy, you can infuse the syrup with mint, or make ice cubes with mint leaves or raspberries in them. A slice of lime for decoration or frosted rims on your glasses also never goes awry! Be creative and let me know what you've tried.
Bon appétit!
Rose
***
<3 Many many thanks to our Chareply writers Sihaya and Metanaito! <3

***



Vidimo se!
----------------------------------------------------------------------------------------------


Official Panfact #38: Timmy is afraid of dolls.


----------------------------------------------------------------------------------------------