Speak Your Mind is the section where we post your concerns for debate. So remember to pm us if you have something that you want the Pandect Forum to discuss.

This particular SYM is a special edition posted during TPN's hiatus.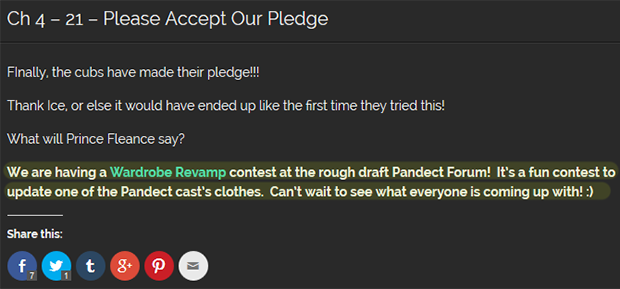 Recently the Panboard got labeled as the "rough draft forum" on pandectcomic.com, which raised some eyebrows in the Office after all the work the Editors have done to include print version related news in the Note. It seems all the members, mods included, were surprised to see this description for the forum since there is no mention on the forum itself of it being a forum only for the fans of the Comicgen version of Pandect. In fact, even the Pandectcomic website mentions that this is a forum for both versions of Pandect:
Pandect has had a fan forum for over a decade now and a lot has happened throughout the years. Pandect's lenghty hiatuses seem to have had an influence on the number of active fans and it's possible that this apparent segregation between comic versions splits the fandom into smaller blocks, which doesn't really benefit anyone. But what to do if the segregation isn't something we necessarily chose, but is pushed upon us?
It would be great to get to hear everyone's opinions on this little incident and Panboard's status within the fandom. Feel free to comment on anything related to this matter. Nothing is so sacred that it can't be brought into the discussion, as long as the discussion is kept civil and the comments are well argumented (as in, you shouldn't comment negatively on something/someone without providing arguments for your opinion).
1. Do you think the Panboard is a "rough draft forum"? Why or why not? Why it is possible for someone to think so?
2. How did it make you feel as a fan to see the forum being called a "rough draft forum"?
(You can also comment on other things related to the topic.)
When replying to the topic, remember the SYM rules: be respectful of all opinions and stay on topic. If anything is deemed to be inflammatory or blatantly off topic it may be deleted, so please keep this in mind.